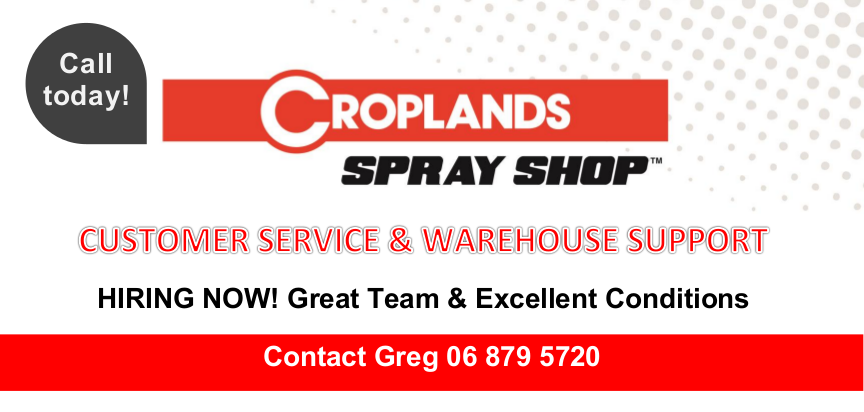 Customer Service / Warehouse Support Person WantedFull-time, great team, lots of variety
Here's an exciting opportunity to join the team at Croplands Sprayshop to grow your career. We are a leading horticultural spray equipment sales and servicing company in Hastings. This role is focused on delivering outsourced services for one of NZ leading horticultural manufacturing companies.
We're looking for a permanent full-time Customer Service / Warehouse Support person, to add to our small, friendly team now, to provide:
Great customer service
Attention to detail and accuracy
Front line desk base sales and promotion support
Strong customer and team relationships
Customer database and administration support
Warehouse picking/packing/despatch services
You will need to have:
A customer focused attitude
Proven accuracy
Excellent communication skills
Excellent time management and systematic approach to your day
Good administration and Microsoft Office skills
A current drivers' license
The ability to work unsupervised
Plus, it would be helpful if you had:
A Forklift License
Previous warehouse or customer service experience
Why Should You Apply?
We offer competitive pay rates
Reasonable hours Monday – Friday
A fun and exciting place to work with great personal growth opportunities
A great work-life balance
APPLY NOW! Call or email for a Job Description or to apply now.
Email Greg at greg@sprayshop.nz or call 06 879 5720.
Applications close 5 pm Friday 8 March 2019.
 Looking for a rewarding career?
Croplands Sprayshop is a great employer, based on the outskirts of Hastings, in the heart of Hawke's Bay.
We value our staff as a key asset within our business. They are integral in enabling us to create a successful and sustainable business for the future. We look for people who are committed to providing quality workmanship/services. Putting our customers' needs first is at the forefront of everything we do.
We have a number of areas within our business:
Customer Services – Retail Shop, Online Shop, Equipment Servicing
Workshop Mechanics
Outsourced Services – Customer Services/Sales Support and Warehouse facilities for a leading Horticultural manufacturer.
Please contact us via email or phone to register your interest in any positions that may come up in the future.
Contact: Greg Deck (Owner/Manager) – greg@sprayshop.nz or call 06 879 5720