KEY FEATURES:
Brass roll-over nozzle bodies with non-drip diaphragm
Manual-tap control for left/right shut off of spray ring on each side
15 litre handwash tanks for operator safety
Flushing tank
Large filling lid
Heavy duty, galvanised frame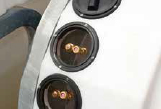 FAN
On the 600 litre Cropair with 800mm fan fitted, there is an option to blank off the air to outlets not being used – for example in vine crops. This allows more air to be distributed through the remaining outlets and to use low-gear fan speed to reduce the power required to drive the fan – especially useful with smaller tractors.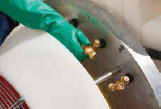 NOZZLES
On both the 300 and 600 Cropair models, each nozzle body is made of brass, with a non-drip diaphragm to avoid dripping when the main tap is shut off. A selection of two nozzle sizes can be fitted so when the nozzle body is 'rolled over', the nozzle required is easily selected. In the halfway position, the nozzle is shut off.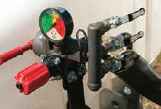 MANUAL-TAP CONTROL AND ISOMETRIC GAUGE
Each Cropair comes standard with manual-tap control for left/right shut off of the spray-ring on each side. A master on/off lever is also provided, along with a rotational pressure control (PRV) and isometric gauge to accurately set the spraying pressure.
| CODE | DESCRIPTION |
| --- | --- |
| GB600/800 | 600 litre Cropair with 800mm fan |
| GB300/500 | 300 litre Cropair with 500mm fan |
| HT-IS4020 | Electric left/right 2-section on/off solenoids with integrated pressure filter and master switch with dump solenoid |
| HT-IS4021 | Electric left/right 2-section on/off solenoids, electric pressure adjustment with integrated pressure filter and master switch with dump solenoid |