The 300 Agripage Linkage Sprayer offers 4 and 6 metre Boom options and is set up to suit your needs.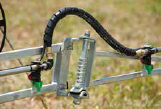 SPRING-LOADED BREAKAWAYS
Spring-loaded breakaways on the popular MBX04 and 06 booms allow the boom to 'break' and absorb shock should a post or other object be struck. The angle of the breakaway ensures the boom then returns to the right position to continue spraying.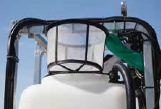 BASKET STRAINER
A basket strainer is provided under the main tank filling lid. It is recommended that all water used to fill the tank is run through this strainer to ensure any small particles are not introduced into the sprayer.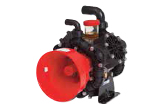 TRIPLE DIAPHRAGM PUMP
Standard positive displacement, triple diaphragm pump with all-poly manifolds and heads, ensuring that even harsh products, those with low pH, and fairly aggressive fertiliser mixes will not affect the operation. The pump can safely be run dry and is exceptionally smooth running.
| Code | Description |
| --- | --- |
| LA300 | 300 litre Agripak linkage sprayer with AR80* liquid fertiliser-ready pump, UCM 5-way controller fitted. |
| LA300/MBX04 | 300 litre Agripak linkage sprayer with AR80* liquid fertiliser-ready pump, UCM 5-way controller and 4 metre MBX series boom fitted. |
| LA300/MBX06 | 300 litre Agripak linkage sprayer with AR80* liquid fertiliser-ready pump, UCM 5-way controller and 6 metre MBX series boom fitted. |
| LA300/MSCL-2 | 300 litre Agripak linkage sprayer with AR80* liquid fertiliser-ready pump, UCM 5-way controller and double-sided covered boom fitted. |
| LA300/XTBOOMKIT | 300 litre AgriPak linkage sprayer with AR80* liquid fertiliser-ready pump, UCM 5-way controller and XT boom kit fitted c/with X Tender boom jets. Standard X Tender nozzles fitted are # 24, which gives coverage of up to 8 metres width depending on height the XT boom kit is mounted. An Ideal choice for hill country or liquid fertiliser applications. |
| LA300/MVB5-5 | 300 litre Agripak linkage sprayer with AR30* 0–40 Bar pressure pump, ARGI40 2-way manual pressure controller and 5 nozzle per-side Vertiboom fitted. |