6 and 8 metre boom options with UCM 5-way controller.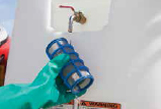 HAND-WASH TANK
If the sprayer filter is blocked while the operator is in the middle of a spraying job, clean water is available from the hand-wash tank to rinse the screen. Ensure only clean water is stored in the hand wash tank and that gloves are used when cleaning filter screens.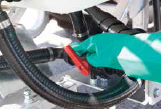 FLUSHING THE BOOM
To flush the boom, pump and plumbing system in-field or back at the filling station, the 3-way valve next to the suction filter is turned in an anti-clockwise direction as pictured above. Fresh water is then drawn from the flush tank to flush the pump, hoses and boom.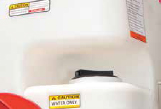 SAFETY
Every Croplands Agripak sprayer has relevant and important information that every operator must read before operating the sprayer. These graphics are molded into the tank to last the life of the sprayer.
| Code | Description |
| --- | --- |
| LA600 | 600 litre Agripak linkage sprayer with flushing tank, hand-wash tank, AR80* liquid fertiliser-ready pump, UCM 5-way controller. |
| LA600/MBX06 | 600 litre Agripak linkage sprayer with flushing tank, hand-wash tank, AR80* liquid fertiliser-ready pump, UCM 5-way controller and 6 metre MBX series boom fitted. |
| LA600/MAX08 | 600 litre Agripak linkage sprayer with flushing tank, hand-wash tank, AR80* liquid fertiliser-ready pump, UCM 5-way controller and 8 metre MAX series boom fitted – no self-leveller. |
| LA600/MAX08L | 600 litre Agripak linkage sprayer with flushing tank, hand-wash tank, AR80* liquid fertiliser-ready pump, UCM 5-way controller and 8 metre MAX series boom fitted and with self-leveller. |