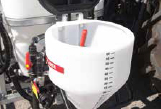 CHEMICAL MIXER AND INDUCTION HOPPER
The optional chemical mixer and induction hopper is a very useful addition to larger linkage sprayers for the safe mixing and induction of expensive products into the main tank. Consider the safety, ease of use and accuracy this option can offer on your farm.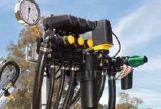 IN-CAB ELECTRIC CONTROLS
In-cab electric controls are a must for tractors with cabs. The ease of use using a switchbox is well worth the investment. Pressure can also be adjusted electrically from the switchbox. When set up correctly, the pressure will remain constant when sections are shut off individually.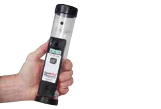 SPOT-ON CALIBRATOR
Consider purchasing a Spot-on calibrator to check if the nozzles are correct for your application. After each season, nozzles can also be checked for wear using this excellent tool. To check a nozzle's flow, it takes around 10 seconds.
| Code | Description |
| --- | --- |
| LA800 | 800 litre Agripak linkage sprayer with flushing tank, hand-wash tank, AR80* liquid fertiliser-ready pump, UCM 5-way controller. |
| LA800/MAX08 | 800 litre Agripak linkage sprayer with flushing tank, hand-wash tank, AR80* liquid fertiliser-ready pump, UCM 5-way controller and 8 metre MAX series boom fitted – no self-leveller. |
| LA800/MAX08L | 800 litre Agripak linkage sprayer with flushing tank, hand-wash tank, AR80* liquid fertiliser-ready pump, UCM 5-way controller and 8 metre MAX series boom fitted and with self-leveller. |
| LA800/MAX10 | 800 litre Agripak linkage sprayer with flushing tank, hand-wash tank, AR80* liquid fertiliser-ready pump, UCM 5-way controller and 10 metre MAX series boom fitted – no self-leveller. |
| LA800/MAX10L | 800 litre Agripak linkage sprayer with flushing tank, hand-wash tank, AR80* liquid fertiliser-ready pump, UCM 5-way controller and 10 metre MAX series boom fitted and with self-leveller. |